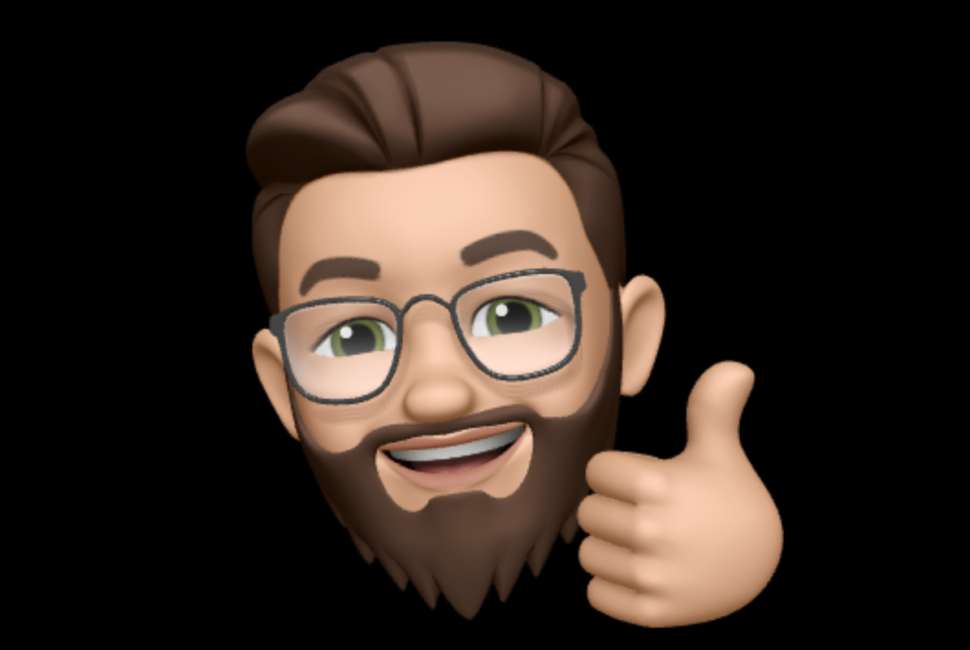 Mr Cater's Weekly Challenge- Return of The Challenge
This is a weekly lockdown challenge set by me and is open to all students. The winners who submit the best entry each week will receive a prize of £10 Amazon vouchers to spend as they wish. The activities are designed to be fun and to offer a little extra to stave off the boredom if needed. They are by no means compulsory but are an extra, light- hearted challenge for those who want it. These will continue each week throughout the school closure.
Mr Cater's Weekly Challenge
Last Week's Winner
SNOWMAN CHALLENGE
Thank you for sensing in all of you wonderful snowman pictures; there were some fantastic constructions, fashion choices and good humour on display and a full range of styles! We even got some snow animals.
The winner of this challenge was Ivy Stanley with her "Thinking Snowman", Well done Ivy, the voucher is on its way!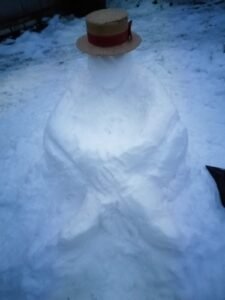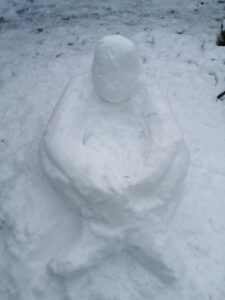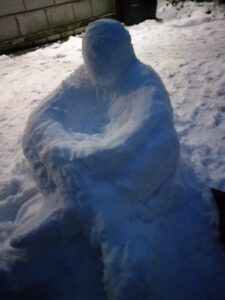 The pictures of all the other entries can be seen below and were created by Alex T (Happy Snowman), Lola B (Classic Snowman), Jai N (Well-Dressed) Snowman), Matthew B (Snow Pixels), Sky OH (Death of a Snowman), Madison W (Snow-cleaner), Scarlett P (Snow- Drunk), Teddy M – (Tree Hands), Maddie B (Snow Family and dog) .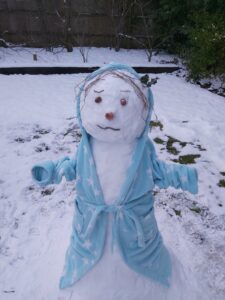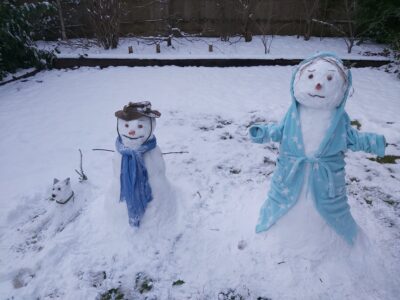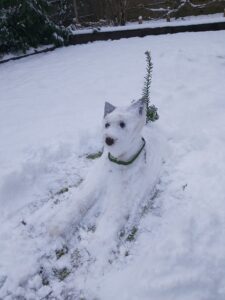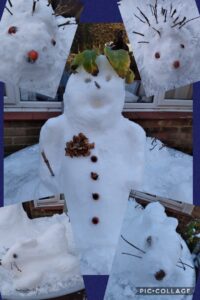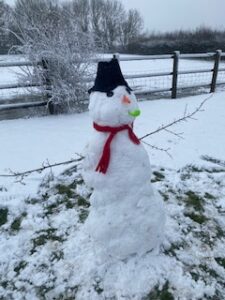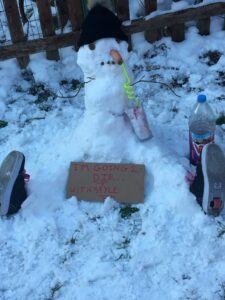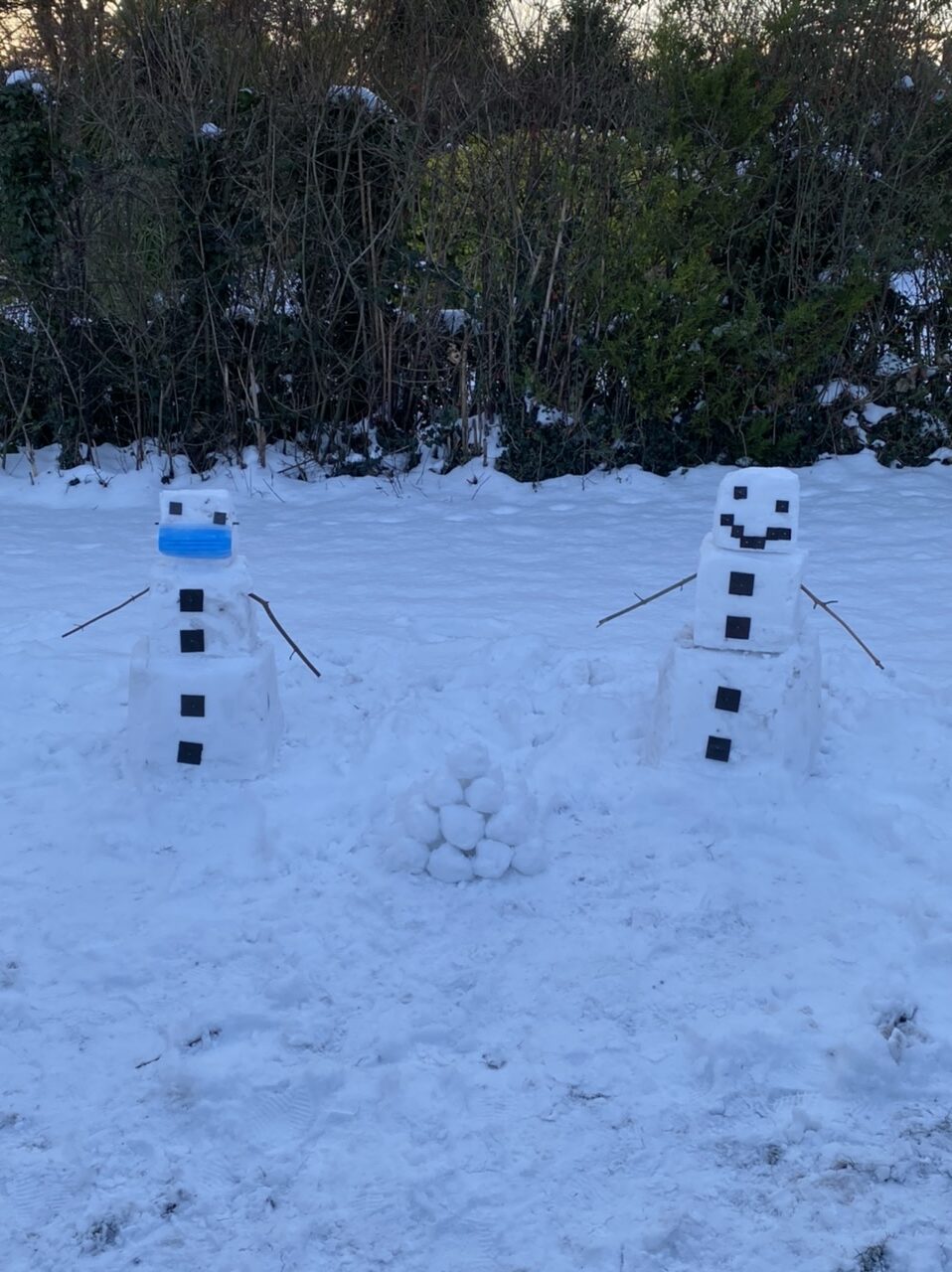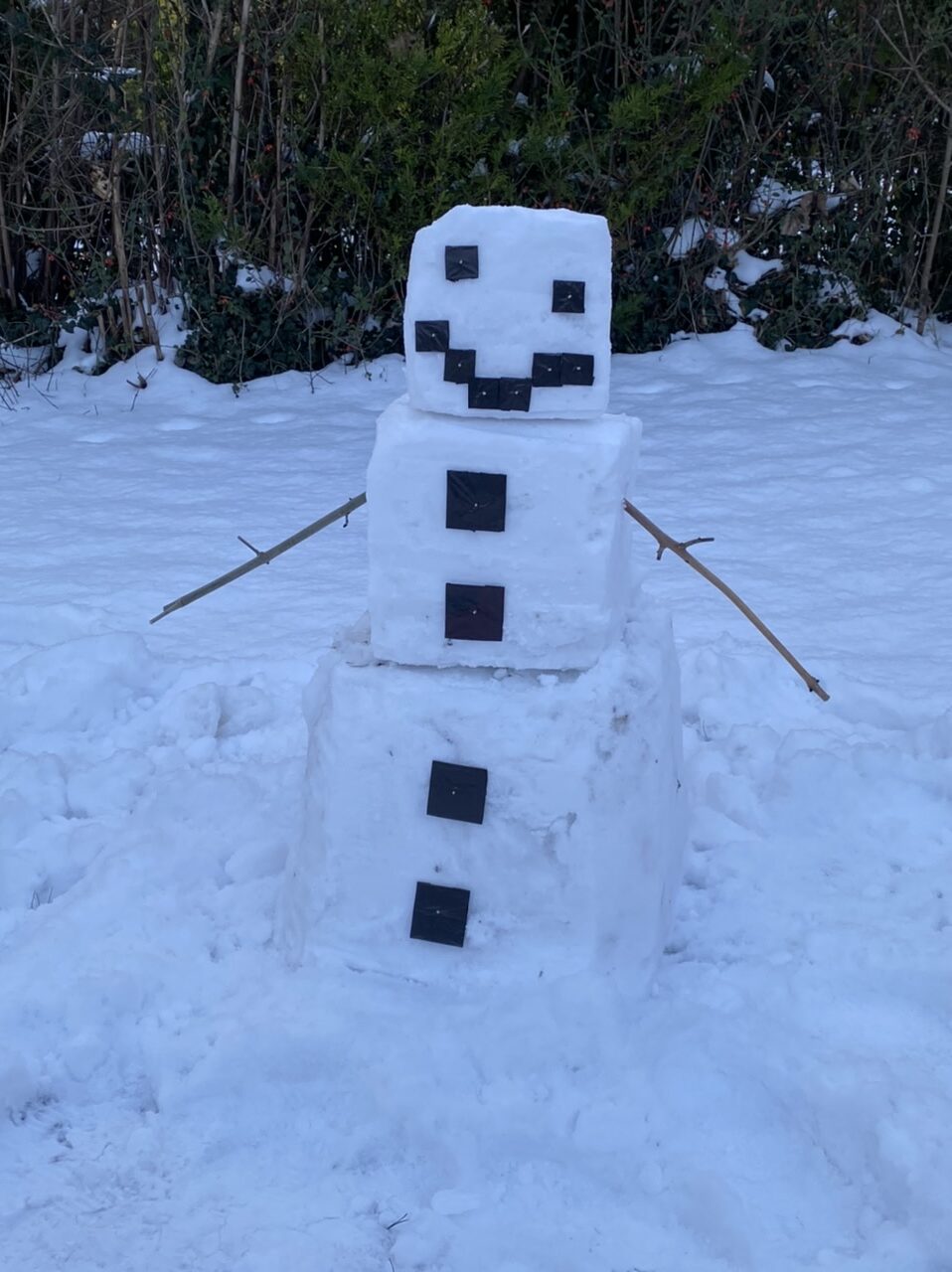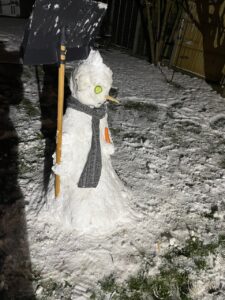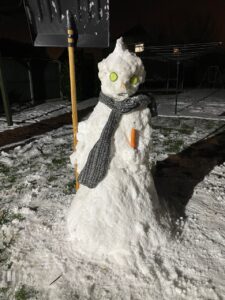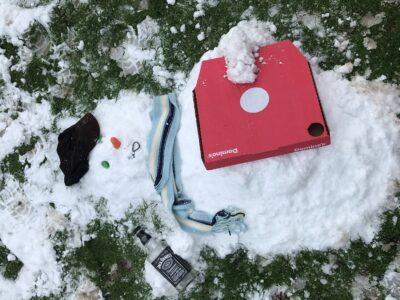 Previous Entries and Winners
The clear winner this week was Rubie- May M for her excellent, fully playable board game called "2020" and based on our day-to-day lockdown experiences. The game is fully playable, cleverly put together and with a great sense of humour. Rubie – the voucher is on its way to you.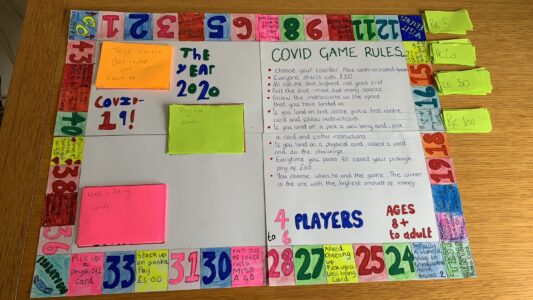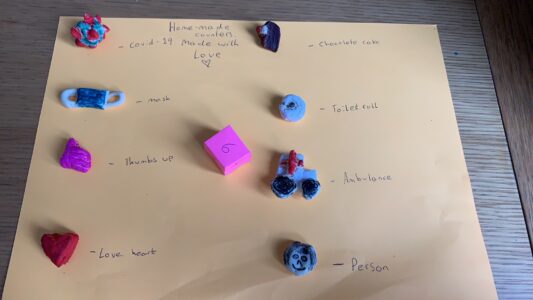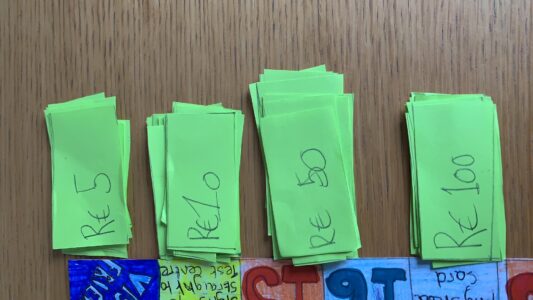 The runner up this week is Millie and Mollie S with their amazing version of the classic monopoly game.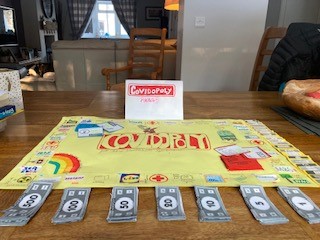 This Weeks Challenge (9/2/2021)
A very simple and fun challenge this week – Build a snowman, take a photo and send it to me. Best and most creative snowman wins this week's vouchers.
The snowman must be built by you and must not be an old an old snowman from previous years.
Get building before this snow melts!
Kind regards
Mr Cater
Mr Cater's Weekly Challenge
Well done to Bryony Weston for winning the card tower challenge with her very impressive card tower. Amazon vouchers are on their way to you. Well done to other notable entries from Liam Norton and Lily Chappel who all came close to Bryony's tower height.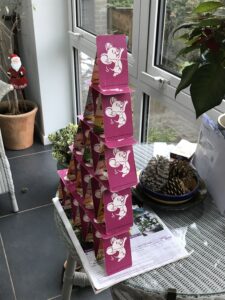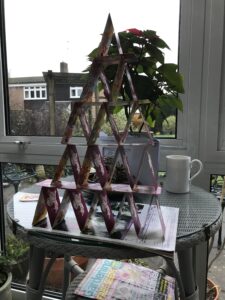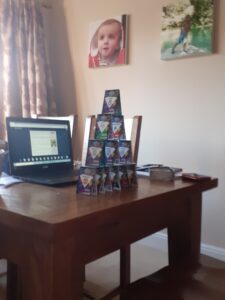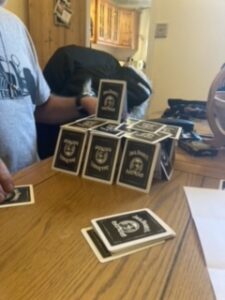 This Weeks Challenge 27/1/2021
Design A Board or Strategy Card Game
This week I am challenging you to design and build a playable board game or turn based strategy card game. It could be dice, skill or quiz based. The game must be designed and then "built" to be ready to play during those quiet lockdown evenings!
This should be a game for 2 players or more, must not copy a current board game and should have clear rules and guidance for anyone who would want to play.
Entries will be judged on:
Creativity and Design
Quality of any built elements of the game
Playability
Fun
Originality
Easy to follow rules and instructions.
To enter you will need to send me the following:
A photo of your game and any pieces/ built elements.
A set of instructions and rules.
A paragraph explaining your game and the idea behind it.
This one has a slightly longer deadline to allow time to create a really good submission and to reflect this the winner will receive a £20 amazon voucher for their efforts.
Good luck.
CHALLENGE WINNER 19/1/2021
Possibly one of the best group of submissions yet to my weekly challenge; it was lovely to see the amazing collections you have put together and sent through. What was most impressive were the lovely stories and reasons behind your collections. It is great to see your shared passions and interests. Each collection is different, special and carefully and thoughtfully put together.
This week's winner is Honey Almeida and her truly impressive collection of coins, bank notes and stamps. The story behind this was truly moving. So, as well as the standard amazon voucher this week, I have put together an extra prize that is befitting of such a lovely collection. This surprise prize will be mailed out to Honey later this week! Well done Honey – I hope you enjoy.
Below are some examples of the other fantastic entries – from football shirts to Teddy Bears and everything in between.
Entries below are from – Jaqueline Deards, Honey Almeida, Madison Wainwright, Amara Norman, Lola Bruce, Jack Kierans, Marcus Valters, Bryony Weston, Ty Benton, Violet Taylor, Katie Sizmur, Felix Nunn, Leo Cross, Harry Ralph, Olivier Tate and Amir Mayow.
THIS WEEKS CHALLENGE – 19/9/2021
CARD TOWERS
A nice and simple one this week.
Build and photograph the biggest playing card/ tower structure you can.
RULES
No glue
No sellotape or any other adhesive
Must be freestanding – not leaning on anything else or have any other support than the cards.
Good luck – Tallest tower (please show with a tape measure or ruler for scale and accurate measurement) wins the voucher.
LAST WEEKS WINNERS AND ENTRIES – 12/1/2021 – PORTRAITS
We had an incredible set of entries this week for the first of the returning challenges. As you will see there was a broad range of styles and approaches used in my "favourite teacher portrait challenge". All the best entries and this weeks winners have been posted below (some, including the winner wished to remain anonymous)! I have not given the names of the staff portrayed in these images – part of the fun is seeing if you can guess (unless the name is visible).
The winner will receive a £10 Amazon voucher and winners and runners up" will be placed into a draw to win an additional £20 Amazon voucher at February Half Term. Honorable mentions will also be entered into a draw to win a £10 Amazon voucher.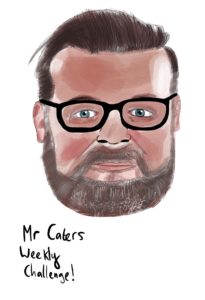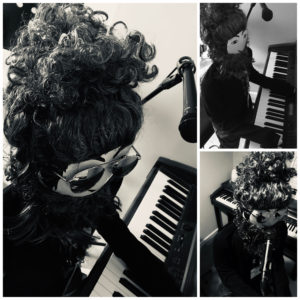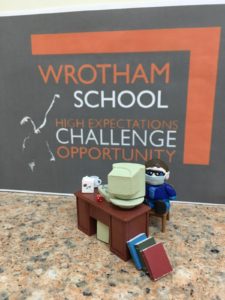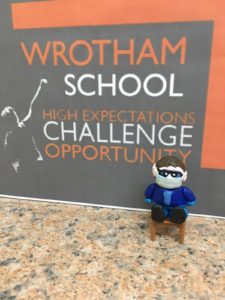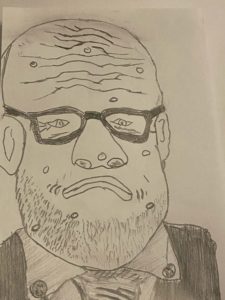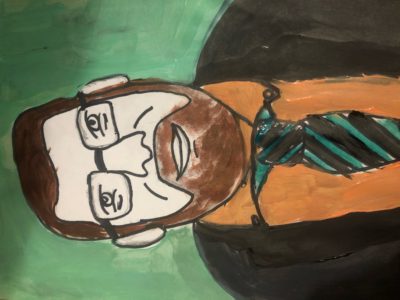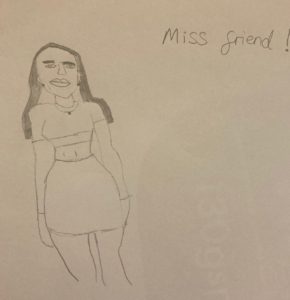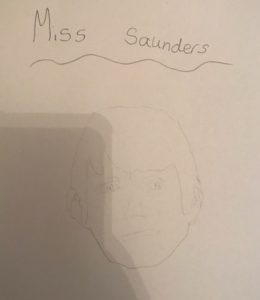 THIS WEEKS CHALLENGE- 12/1/2021
This week I am challenging students to do the following:
COLLECTIONS
This week I am looking for the best collections of things. This could be a hobby or interest you have and could contain anything following a theme – For example – Books, Badges, fan memorabilia, postcards, toys etc etc.
The only rules are that it has to be a collection (in other words – more than one example) and it has to have a theme. The more interesting or unusual the better!
To enter you will need to submit a photo/ photos of your collection and write me no more than 200 words about what the collection is, how you have collected it and why it is special to you. Tell the story of your collection.
Please send this to the usual email address mcater@wrotham.kent.sch.uk.
ENTRY DEADLINE IS – 19/1/2021.
If you are new to the school and would like to see some of last year's amazing efforts, you can find them here:
5/1/2021
I am challenging students to draw, paint, collage or sculpt a portrait of their favourite teacher, member of support staff or Headteacher! Any style is permitted from hyper realistic too abstract. The best work will be displayed on the school website and on Facebook. Students should complete the work in any materials they choose and take a photo of their final work and send directly to me (mcater@wrotham.kent.sch.uk) no later than 12/1/2021 and I will judge these and announce the winners accordingly.
Good luck and I look forward to seeing your submissions.