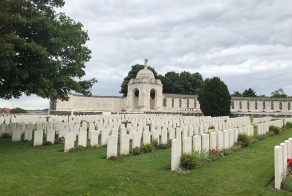 Ypres and History Trips
The History Department took a large group of year 8s to Belgium as part of their history work on World War One. We visited Passchendaele Museum where we experienced what it was like in the trenches. We contrasted the famous white washed walls of Tyne Cot Cemetery with the dark stonework of the Langemark German cemetery. We were impressed by the site of Menin Gate in Ypres Town. The trip marked our first trip abroad since the pandemic.
We also had the Year 7 History Trip to Hampton Court Palace, where students did a hunt around the Palace to find different things to do with the Tudor period, and also tried not to get lost in the maze!
The Year 9 History Trip to the Imperial War Museum was also a success- students explored their WW1 and WW2 exhibits and used the museum's new technology to really investigate and immerse themselves in the Holocaust exhibit.