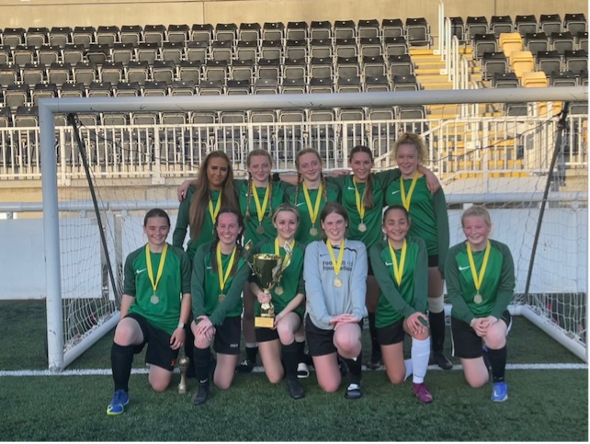 Sporting Success – Update
Football
A few weeks ago our final football fixture of the season took place as our Upper School Girls team competed in the final of the Maidstone Schools Premiership at The Gallagher Stadium in Maidstone. After winning all of their games this year, we faced Aylesford in the final. The whole team played incredibly well, resulting in us coming away with a 7-0 win! The girls showed fantastic confidence, teamwork and compassion throughout the match, creating life long memories in the process.
Athletics
In recent weeks we have had students from Year 7, 8, 9 and 10 represent the school in local Athletics tournaments. On each occasion, the students represented the school brilliantly and showed fantastic character in the process. The level of resilience shown by all of the students was remarkable. No matter who they were competing against, all of our students battled right until the end of every single race.
Basketball
In the first two weeks of Term 5 we had basketball teams from Year 7, 8, 9 and 10 represent the school in local tournaments. All of the teams showed great teamwork, confidence and resilience. Not a single member of our teams had ever played competitive basketball before, we competed well against other Maidstone Schools and finished between 2nd and 4th in each of the tournaments.
Sports House System – Looking Ahead 
We have now launched our new Sports House system in the lower school. All lower school students and staff members have been drafted into one of 4 houses, named after iconic sporting venues and led by a member of the PE department.
Lord's House – Mr Grinstead
Twickenham House – Mr Read
Wembley House – Mrs Healy
Wimbledon House – Miss Fuller
Students will first represent these houses in this year's Sports Day, wearing their house colours as they compete in a range of different events.
Students will stay in the same house throughout their time at Wrotham School, competing in regular events such as inter house football and basketball. Our hope is that these houses will develop a real sense of community for our students, creating a yearlong competition with Sports Day as the "Grand Final".