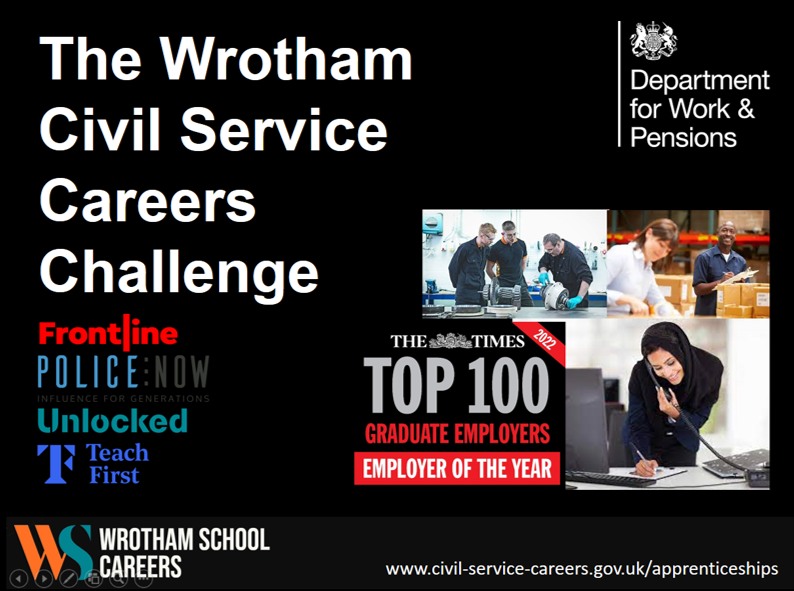 Civil Service- Careers Competition
Congratulations to Year 10 for taking part in our Civil Service Careers competition this term. As part of the challenge, they had to work within a team and show creativity in proposing ideas of how the different departments in the civil service could work to solve problems within a fictional town. They also had to allocate the funding that would be appropriate for each of their suggestions. Each progress group then held a vote where every team had to discuss and present their ideas and, as a class, they decided which group's proposals would be the most effective.
The proposals were sent to the Civil Service and a panel of 10 judges within the Department for Work and Pensions chose their favourite two groups out of the four that were submitted. Mr Allum and Miss Fuller's group entries will be completed next term. Unfortunately, the judges weren't able to make it to assembly as planned, but they were very complimentary of the quality of all of the entries that they saw and are looking forward to working with us later in the year.
Mr Azim's nominated group won! They were each awarded a £10 Amazon voucher by Wrotham Careers Department. What was also fantastic was that one other entry was deemed so good by the judges, that they insisted that a second special award be created. Mrs Jacques's nominated group has been given a week's worth of 'skip the lunch queue' passes as a result.
The winning team included:
·         Liam
·         Jack G
·         Jack M
·         Jacob N
·         Jack S
The special award went to:
·         Annabel
·         Chloe
·         Bella
The level of engagement from the whole year group showed how developed their skills in teamwork, creativity and communication are. Mrs Hollinshead has also set some research tasks on SMHW if anyone is interested in a career within the civil service either after sixth form/college or after university as an apprentice or as part of their graduate programmes and civil service fast track. For more information about apprenticeships, please visit the careers pages of the Wrotham School website.