BBC Share your Story – Careers Tour 2023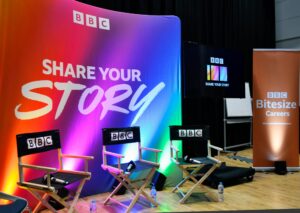 The BBC visited our Year 9, Year 10 Media, Year 11 and Sixth Form students during National Apprenticeship Week 2023. As part of the BBC's centenary celebrations, they created a tour focused on careers education with specialist careers panels. Our students heard from successful people from our local area, working in the creative industries. We'd like to say our thanks to:
Alex Mansuroglu – Radio Presenter and DJ for Kiss FM, who grew up locally in Meopham.
Yasmin Kavanci – Freelance Transmission Operator and Illustrator who lives in Gillingham
Leo Ulph – Radio Presenter of Upload on BBC Radio Kent, promoting literacy and creativity across the county
Josephine Clark – Commercial Director at Maidstone Studios with 20 years' experience in the production of live sports, documentaries, children's TV, music and much more. 
The whole BBC tour crew and administration team for sharing this opportunity with our students. 
The BBC's careers support for students doesn't end with the school tour; students were directed to the BBC Bitesize Careers site, where they will find an ever-growing library of job profiles to explore across all industries, alongside careers advice and information about next steps in education and the world of work.
This event supports Wrotham School in fulfilling its statutory obligations under Provider Access Legislation (2023).